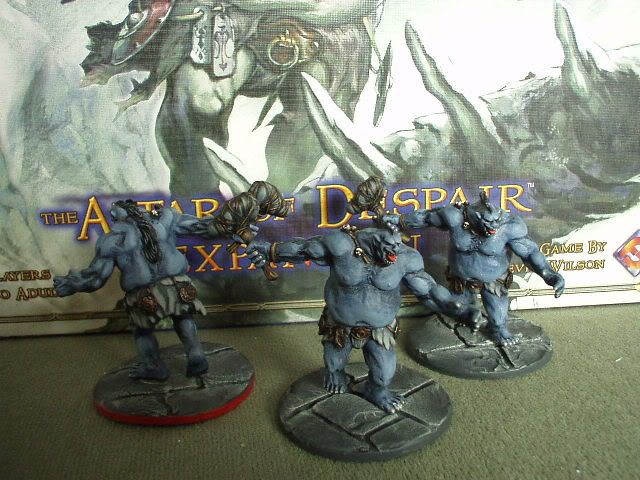 The above photo is one I found where someone painted their miniatures that come with the game. Fantastic job!
Through the power of the internet, a mailing list serving Mid-South gamers and some luck I found 3 players for Descent who were willing to give the game the 10 scenario run I've wanted to do: run through all 10 scenarios at a rate of 1 every 2 weeks.
None of the gamers had tried Descent before. 2 of them had played Runebound before so were familiar with the background story. All of them were veteran gamers. The game was to go off around 5 or 5:30 but various things kept us from starting until 7. This is a late hour to get Descent off and running. However I managed to teach them the system through 2/3rds of the game before we quit. We got to the a stopping point around 10. I am sure they would have finished it off with another hour. I expect we will blow through this scenario for real in a second playing in about 2 hours.
I did a lot of things that really made life simple for setup and take down. In fact set up was only about 20 minutes with take down being in the 15 minute range. I got a Plano style box for most of the game play bits and then plastic bags for all the minis and board pieces. It was great to see some planning ahead really work out. I originally intended on just using the basic game but decided that since I did have the two expansions that are out I ought to combine them. This was great – it added a lot of flexibility and variety to the game. It certainly added a lot more color to the game than would have been there with just the basic set. It was a Master Dark Priest that gave me my first kill!
Overall I LOVE this game. After just 3 playings it has become one of my favoirtes. I'll report more on how Scenario 1 goes on it's second pass with the new crew.